About Us • #MOUNTLOFTYHOUSE
Mount Lofty House, our treasured state icon.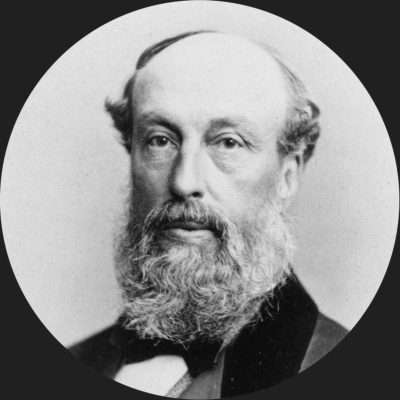 Visionary. Statesman. Planter of Trees.
Arthur Hardy. One of a kind.
The renowned Hardy family patriarch, Arthur Hardy, arrived on South Australian soil at just 21 aboard the Platina, from his native England. The determined and visionary young Hardy overcame illness to prosper as a grazier on land around Adelaide's foothills, before embarking on a professional career in politics and law. While building Mount Lofty House and calling it home for over 10 years, he planted three great Californian Redwoods (Sequoias) and through further plantings on his grounds also set the foundations for what would become the Mount Lofty Botanic Gardens. Hardy, who was Australia's first Grand Master of the Freemasons would later in life found the Adelaide Club, become a government minister and a member of the Supreme Court. He continued to visit his office everyday until he peacefully passed away in his 90s, at home in Glenelg.

After Yorkshire-born lawyer Arthur Hardy is advised by his doctor to seek a warmer climate, he migrates to South Australia in 1839. Starting out as a grazier and practising law in the Supreme Court, he is later appointed Crown Prosecutor.

He marries his true love, Martha, back in England and both return to Adelaide in 1850. On their return he builds Birksgate mansion and purchases 1,000 acres along Mount Lofty Summit road, dreaming to build a British style country manor.

In 1852 Hardy builds Mount Lofty House. The manor soon will become the state's premier venue for lavish and infamous parties. Unfortunately, the Hardys are living way outside their means and become obliged to sell Mount Lofty House in 1865.

Arthur Waterhouse, a prosperous banker who made his money in the gold rush, purchases Mount Lofty House. Together with his wife Laura, daughter of the South Australian Premier Sir William Morgan, they extend the front of the house to what it looks like today.

For the next 100 years, the house passes through a number of families and becomes home to a commune in the 1970s. While this turn isn't unusual for the time, it marks an end to Mount Lofty House's grand times. After a number of local weddings, the commune disband and the house is sold again.

On February 16 more than 180 fires rage throughout the Hills, the deadliest fire in Australian history to the time. An estimated 130,000 firefighters, defence force personnel, relief workers and support crews try to extinguish the fires but 28 people, 18,000 cattle and 340,000 sheep will die and 3,700 buildings are burnt down including Mount Lofty House.

Ross Sands, a Stirling architect spends three years restoring the house to its original glory drawing from historic photographs and plans. The property is then turned into a luxury boutique hotel and is extended with the Piccadilly Wing in 1988. In 2009, the South Australian Horbelt family purchases Mount Lofty House with a grand vision.

Major refurbishment and renovation is undertaken in the Heritage Wine and Hardy's Verandah Restaurant opens to the public. Hardy's Verandah serves a seasonally changing, 4 to 7 course degustation menu, following the 'Valley to Verandah' concept, paired with a multi-award-winning wine selection, sake collection, and creative cocktail menu. Situated on the original verandah of the house, it enjoys sweeping Piccadilly Valley views.

All guest rooms in the house are completely rebuilt, transforming the grand old manor once again. Luxurious bathrooms, four poster beds, bespoke artwork and period furnishings, when you enter these rooms you step back in time, not in style. Development on a new six-star luxury lodge, Sequoia, begins.

After an extensive renovation of one of the original cottages on the property, Gatekeeper's Day Spa opens. Timeless elegance in a beautiful cottage garden setting, Gatekeepers is tranquil and calming. Using locally sourced products in a partnership with Jurlique, the spa has three treatment rooms, a beautiful sunroom and formal cottage gardens.

Australias most luxury lodge
The long-awaited Sequoia Lodge opens on the estate in 2021. Comprising of 14 luxurious suites perfectly positioned on the Escarpment overlooking the Piccadilly Valley, a guest lounge and bar, sundeck, helipad and artesian spring fed hot pools, Sequoia Lodge is the South Australia you never knew existed. Sequoia is more than a luxurious lodge offering unparalleled experiences. Sequoia is the story of this region, its nature, and produce. Wherever you look and go, discover the land and its people, connect with the earth beneath your feet and find joy in the beauty of being.

A new offering on the estate, Martha Hardy's Kitchen, opened in late 2022. Arthur Hardy was reminiscent of a South Australian Jay Gatsby; indeed his wife Martha described their lifestyle as 'a kind of feudal splendour'. Martha's love for lavish entertaining delighted guests, who often noted that there was always a leg of lamb roasting on the huge spit in the estate kitchen. It is from these early depictions of Mount Lofty House and from Martha's love of entertaining that the concept behind Martha Hardy's Kitchen was born. The hero of Martha's, a lamb dish which changes with the seasons, pays homage to Martha Hardy, and to her kitchen.
Awards and Acknowledgements
We never stop doing our best