dining experiences in the adelaide hills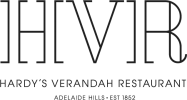 at Hardy's Verandah Restaurant
Indulge in the epitome of refinement at Hardy's Verandah Restaurant with their sumptuous luxurious high tea. Nestled in the heart of the home, this experience transcends traditional tea service, offering a sensory journey. Immerse yourself in opulence as you savor exquisitely crafted pastries, delicate finger sandwiches, and the finest loose-leaf teas. The sophisticated ambiance of Hardy's Verandah, adorned with timeless decor and panoramic views, elevates the affair. From the meticulously arranged table settings to the attentive service, every detail enhances the experience. This high tea at Hardy's Verandah is a harmonious blend of taste and luxury, promising an unforgettable rendezvous with refined indulgence.
High Tea bookings are essential and available to book online.
When: Every Saturday & Sunday
Times: 12pm – 2pm & 2pm – 4pm
Cost: From $79 per person
HVR & AWL
Lounge Bar & Dining
Subscribe to Dining news
& Events Newsletter
A truly beautiful experience
From the moment we walked in we were greeted with so many welcoming faces we felt like VIP. The food is absolutely incredible, the best quality produce that is thoughtful, respecful and curated to bring such pleasure to your palate. Accompanied by one of the most astonishing wines lists I have even seen. This is beyond a meal is an experience that left is feeling uplifted.
★★★★★
Brett - June 2022
Great meal and wines. Beautiful view
We had a 4 course gourmet meal. Excellent food, Excellent Service and the wines recommended by the Sommelier was perfect for us
★★★★★
John
JULY 2022
Our favourite dining experience Our favourite restaurant in South Australia.
Such a delight the service, food & wine is second to none. The first visit we chose the 7 course degustation with the premium wine match and it was worth every penny. ... The Rusden Black Guts Shiraz was beautiful. We booked well in advance choosing the 6.15pm setting to watch the sunset over the stunning Piccadilly valley. It is worth going early to enjoy a cocktail at the Arthur Waterhouse bar also in Mount Lofty House - I can highly recommend the spritz cocktail for a refreshing drink.
★★★★★
Sharon
APRIL 2022
An amazing experience
We were staying in the Lodge for an anniversary and had 7 course meal paired with sommelier's choice of wines. Special tribute to sommelier Abhas Saxena, who explained the choice of wines and provided alternatives to match different tastes. His attention and knowledge really made the evening special. Service from all staff was excellent. The food was also excellent, as were the views from the window table.
★★★★★
Tripadvisor reviewer
MARCH 2022